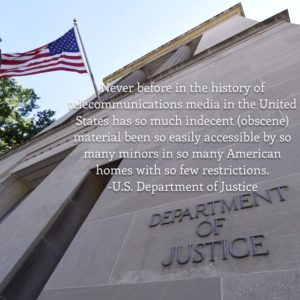 Prayer, personal relationships, and hard work are the foundation principles of our organization. We are a new organization but with years of individual experience. Most of our leadership came together on the issue of pornography in today's culture, and it's easy accessibility to children. In collaborating plans and strategy, we started National Decency Coalition. Goals:
Fight and succeed on issues that protect and create a decent society for generations to come.
Encourage and assist policy makers and government authorities to enforce current obscenity laws, create new obscenity laws that reflect declining trends, and take real action toward the 'health crisis' of pornography.
General Information:
PO box 2132
Mt. Juliet, TN 37121
Team

Tiffany Leeper
Co-Founder, Executive and Strategic Director
media@girlsagainstporn.com

Ricky Darr
Co-Founder, Policy Director
ricky@decencyusa.org

Joan Thomas
Senior Advisor
jthomas1@memphis.edu

Eddie Capparucci
Clinical Expert/Contributor
eddie@menagainstporn.org

Lisa Shanklin
Southeast Regional Liaison
lisashanklin10@gmail.com

Reese Crane
Northeast Regional Liaison
reesecrane@gmail.com

Uriah Stark
Mid-West Liasion
uriahstark97@gmail.com
State by State:

*For icons that direct link to other websites, contact within the website for state information on National Decency Coalition.
 Alabama
 Alaska
 Arizona
 Arkansas
 California
 Colorado
 Connecticut
 Delaware
 Florida
 Georgia 
 Hawaii
 Idaho
 Illinois
 Indiana
 Iowa
 Kansas
 Kentucky
 Louisiana
 Maine
 Maryland
 Massachusetts
 Michigan
 Minnesota
 Mississippi
 Missouri 
 Montana
 Nebraska
 Nevada
 New Hampshire
 New Jersey
 New Mexico
 New York
 North Carolina
  North Dakota
 Ohio
 Oklahoma
 Oregon
 Pennsylvania 
 Rhode Island
 South Carolina
 South Dakota
 Tennessee 
 Texas
 Utah
 Vermont
 Virginia
 Washington
 West Virginia
 Wisconsin
 Wyoming